100 + Years of History
Machlett pioneered X-ray technology. Here is one of their early tubes.

Another early tube manufactured by Machlett.

Raymond Machlett was president of the company, founded by his father, and brought it to prominence in the X-ray field.

Early Raytheon microwave "Radarange" employed groundbreaking technology.

The first microwave ovens for home use made a huge impact on the marketplace.

Percy Spencer of Raytheon is recognized as the "father" of microwave ovens.
The Machlett brand has a storied past. Founded in 1897 as E. Machlett and Son as a maker of scientific glass products, the company was a pioneer in the field of X-ray technology and collaborated with the likes of Madame Curie and other leading roentgenologists.

Machlett Laboratories was created in 1934 to produce X-ray tubes, and grew to become the world leader in the field.
Machlett's product line expanded to include transmitting tubes, and also did contract work for the Atomic Energy Commission. The company was acquired by Raytheon Manufacturing Company, as the conglomerate sought to increase its efforts in the area of microwaves. Raytheon had received a patent for a "high frequency dielectric heating apparatus" in 1945.
Raytheon expanded their military microwave technology into commercial applications, introducing a huge microwave oven for hotel and shipboard use in 1947. The Raytheon Industrial Systems division was formed in Waltham, Massachusetts and subsequently acquired appliance manufacturer Amana. In 1967 the "Radarange," the world's first microwave oven designed for home use, was enthusiastically welcomed by the general public.
As part of a parallel universe,

Penta Laboratories, another tube manufacturer, was acquired by Raytheon in 1973 and the two operated as separate divisions. In 1988 Connecticut-based Machlett, which had manufactured magnetron tubes for Raytheon's microwave efforts, was sold to Varian and absorbed into the California-based company.
About the same time Penta spun off from Raytheon, becoming an independent entity. The company has become a primary manufacturer and distributor of a wide range of electron tubes, covering broadcast, industrial, research, military, medical and scientific applications.

Its California facility is ISO 9001:2008 certified. Penta has affiliated manufacturing entities in Europe and Asia.
In recent years Penta acquired the Machlett brand, and has retained the services of a cadre of highly experienced personnel who trace their roots back to the Raytheon Power Tube division. Penta has reinvigorated Machlett's manufacturing and service operations. The company stands unique as the industry's only microwave systems manufacturer that supplies its own magnetrons.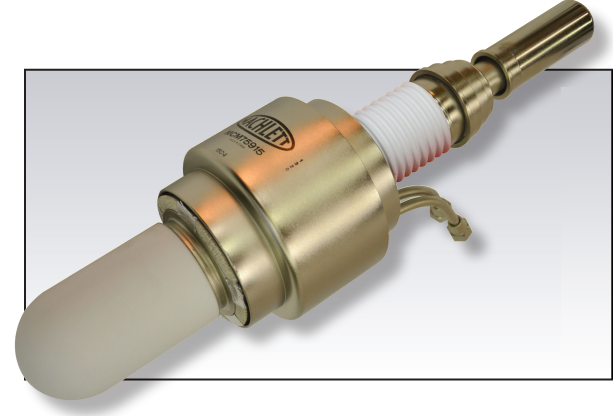 *Machlett is the only manufacturer of microwave oven systems that makes its own magnetron tubes.