CORE EXCHANGE PROGRAM
New and remanufactured circulators can be shipped the same day as the order is received under Machlett's Core Exchange Program (unit must be a stocked item).
Circulators
Introducing The Best Circulator On The Market Today
We've taken Circulator technology to the next level and developed a unit that maintains the proper operating temperatures and eliminates power reflections that affect the performance and reliability of magnetron tubes. Check out these features:
Super-conductive magnets assure a non-reciprocal transmission path
Low dome height design for improved clearance
Premium grade ferrite material prevents power drift during start-up
Copper domes prevent leaks from oxidation
More finely tuned than the competition
It's important to note that circulators from competitors send reflections of power back to the magnetron, causing ceramic-tometal joint arcs, cracked domes and power overloading. These conditions can void your tube warranty.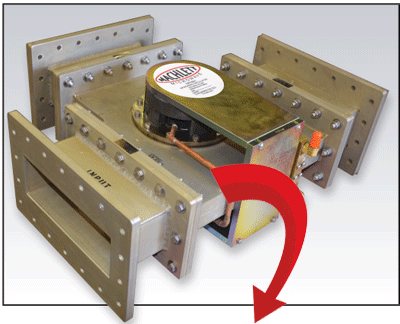 Remanufactured Circulators Are Machlett's Specialty
The same premium materials and components found in new Machlett circulators are employed to remanufacture Ferrite, AMTek and other brand circulators. Remanufacturing is done by ISO 9001-2008 certified Penta Laboratories to the industry's highest standards. Some upgrades include:
Refinishing the entire unit with a fresh dipped iridite coating (includes the keepers that hold the magnets and domes in place)
Exclusive use of premium grade ferrite material
Cheaper aluminum domes are replaced with copper domes to prevent leaks from oxidation and enhance service life
Units tuned to tighter specification than when new