Advanced Replacement Warranty
In the event of an early-life failure, Penta's Advanced Replacement Warranty promptly provides you with a replacement magnetron. There's no waiting for a complete evaluation before you're back on line.
Magnetron Tubes
Penta Labs offers NEW enhanced 75 kW Machlett magnetron tubes and premium rebuilding services.
Designed for industrial processing applications, Machlett MCM75915 and MCM75896 magnetron tubes operate at 915 MHz or 896 MHz with the highest L-band power output of 75 kW. Outputs to 100 kW are available. They are fixed-tuned, magnetically focused, and feature air and liquid cooling. Important considerations include:

High efficiency output (most for this design)
Ribbed ceramic design
Improved insulation
Reduced arcing
Cost savings (we urge you to compare)
These benefits, combined with ISO 9001:2008 certified manufacturing, puts Machlett magnetron tubes ahead of the competition in terms of performance, durability and value.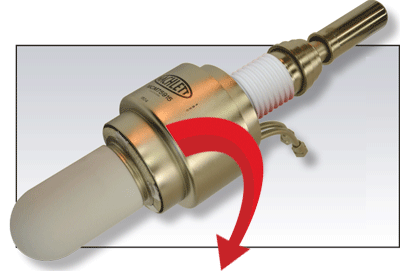 Remanufacturing Services
Older magnetron tubes can be rebuilt to like-new specifications by the experts at Penta Labs (ISO 9001 certified). This includes utilizing a new Anode body (while competitors typically use the old bodies—which can have contaminated water jackets) and Machlett's improved ribbed design ceramic. No wonder Machlett rebuilt magnetrons are fast becoming the preferred choice in the industry.